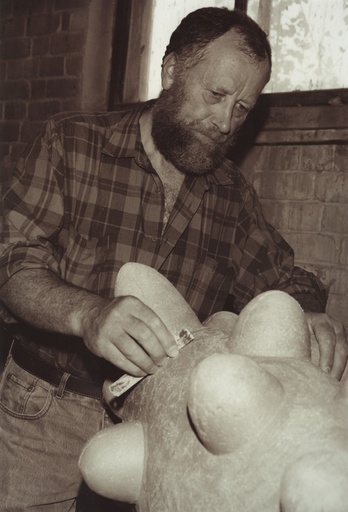 I was born in 1947 in Dusmenys, Lithuania.
From 1966 to 1972 I studied sculpture at the State Institute of Art (in 1989 renamed to Vilnius Fine Arts Academy). My tutors were Bronius Vyšniauskas, Gediminas Jokūbonis and Konstantinas Bogdanas.
Since 1973 I have been living and working in Panevėžys. From 1974 to 1987 I was teaching art at the Panevėžys art school.
I am a member of the Lithuanian Artists' Union since 1975. And during the period from 1989 to 1993 I was a chairman of the Panevėžys branch of the Lithuanian Artists' Union.
Since 1973 I have arranged a number of solo exhibitions as well as participated in numerous group exhibitions and symposiums in Lithuania and abroad (Austria, Belgium, Denmark, Germany, Latvia, the Netherlands, Poland, Russia, Turkey).
I have created numerous copper sheet reliefs and sculptures for interior and exterior as commissioned by the public institutions, as well as small sculpture and ceramic sculpture pieces, plastic compositions, objects and pastels.
Lithuanian Art Foundation, Lithuanian Art Museum, the White House / USA, Panevėžys Land Museum, Panevėžys Civic Art Gallery, including private collectors in Lithuania and abroad have acquired my works.
I have won the following awards:
1st Diploma at the 2nd and at the 3rd National Exhibitions of Young Artists' Work (1973, 1974).
Artist State grant of the Republic of Lithuania (2002,2015).
The nomination For Artistic Maturity (2007) at Panevėžys' Fine Art Days '2007.
The laureate of the exhibition Panevėžys' Fine Art Days '2011.